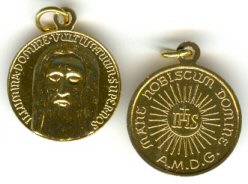 The Holy Face Medals are 3/4" diameter,
made of aluminum and gold in color
(Order Now)
The Holy Face of Jesus
"I firmly wish that my Face reflecting the intimate pains of my Soul, the suffering and love of my Heart, be more honored! Whoever gazes upon me, already consoles me" . . . Our Lord to Sister Pierina
The Medal and the Holy Face
The Blessed Maria Pierina de Micheli, a holy nun who died in 1945 (beatified May 30, 2010), was urged in many visions by the Blessed Mother and Jesus Himself to spread the devotion to the Holy Face, in reparation for the many insults Jesus suffered in His Passion, such as to be slapped, spit upon and kissed by Judas, as well as now being dishonored in many ways in the Blessed Sacrament by neglect, sacrileges and profanations.
Jesus showed Himself to her often, sad and bleeding, asking her for reparation thus increasing in her the desire to suffer and to immolate herself for the salvation of souls. These manifestations became more and more frequent and in May 1938, whilst at prayer on the step of the Altar, a beautiful Lady appeared to her carrying in her hand a Scapular, made of two pieces of flannel joined by a cord. One of these pieces bore the image from the Holy Shroud and the inscription: "Illumina, Domine, vultum tuum super nos" – "May, O Lord, the light of Thy countenance shine upon us" (Ps. 4:6). On the other piece was a radiant Host, with the words, "Mane nobiscum, Domine" – "Stay with us, O Lord" (Luke 24:29). Gently the lady approached and said: "Listen carefully and report everything to the Father [her confessor]: This Scapular is an armor of defense, a shield of strength, a token of the love and mercy which Jesus wishes to give the world in these times of lust and hatred against God and His Church. Diabolical nets are thrown to wrench the Faith from hearts, evils abound, true apostles are few, and the remedy is the Holy Face of Jesus. All who wear a Scapular like this and make, if possible, every Tuesday a visit to the Blessed Sacrament, in order to repair the outrages which the face of my son Jesus received during His Passion and receives every day in the Holy Eucharist, will be strengthened in Faith, prompt to defend it and to overcome all difficulties internal and external. Further they will have a peaceful death under the loving gaze of my Divine Son."
The same year Jesus appeared again covered with blood and with much sadness said: "See how I suffer. Nevertheless I am understood by so few. What ingratitude on the part of those who say they love me. I have given my heart as a sensible object of my great love for man and I give My Face as a sensible object of my sorrow for the sins of man, I desire that it be honored by a special feast on Tuesday in Quinquagesima. The feast will be preceded by a novena in which the faithful make reparation with me uniting themselves with my sorrow." In 1939 Jesus said again: "I wish that My Holy Face he honored in a particular manner on Tuesdays."
Mother Pierina felt the desire of Our Blessed Lady, manifested to her, very pressing. She obtained permission from her spiritual Director and though means were wanting, she set about the task of having a medal cast. She obtained the permission of the photographer Bruner to take copies of the Holy Shroud as reproduced by him, and also the permission of the venerable Curia of Milan on the 9th August 1940. Financial means were still wanting, but the confidence of the Reverend Mother made up for it. One morning she found on her desk an envelope with the exact amount of the bill – 11,200 lire. Our Blessed Lady had seen to it.
The devil, maddened at this, fell upon this soul to frighten it and prevent the distribution of the medals: he threw her down in the corridor and down the steps: he tore the images and pictures of the Holy Face, but she bore up everything. She tolerated and sacrificed all in order that thus the Holy Face may be honored.
Mother Pierina was worried because she got medals made instead of scapulars. She turned to Our Blessed Lady to obtain peace of mind in the matter. On the 17th of April, 1943 the Blessed Virgin appeared to her and said: "My daughter, be calm, the Scapulars have been substituted by the medal with the same promises and favors. It only remains to be distributed widely. Just now my heart is set on the feast of the Face of My Divine Son. Tell the Pope that it preoccupies me." She blessed her and departed.
The first medal of the Holy Face was offered to Pope Pius XII who approved the devotion and the medal. On April 17th, 1958, he declared the Tuesday before Ash Wednesday (Shrove Tuesday) as the Feast of the Holy Face of Jesus.
As revealed to Mother Pierina Tuesday is a day of reparation to the Holy Face, particularly before the Blessed Sacrament. All are encouraged make a visit to the Blessed Sacrament.
---
Novena to the Holy Face
For the feast of the Holy Face, start the novena on
Sexagesima Sunday (two Sundays before Ash Wednesday).
The novena can be said any time – say once a day for 9 days.
O Lord Jesus Christ, in presenting ourselves before Thine adorable Face, to ask of Thee the graces of which we stand in most need, we beseech Thee above all, to grant us that interior disposition of never refusing at any time to what Thou requirest of us by Thy holy commandments and divine inspirations. Amen.
O Good Jesus, who hadst said, "Ask and you shall receive, seek and ye shall find, knock and it shall be opened to you," grant us O Lord, that faith which obtains all, or supply in us what may be deficient; grant us, by the pure effect of Thy charity, and for Thine eternal glory, the graces which we need and which we look from Thine infinite mercy. Amen.
Be merciful to us, O my God, and reject not our prayers, when amid our afflictions, we call upon Thy Holy Name and seek with love and confidence Thine adorable Face. Amen.
O Almighty and Eternal God, look upon the Face of Thy Son Jesus. We present It to Thee with confidence to implore Thy pardon. The All-Merciful Advocate opens His mouth to plead our cause; hearken to His cries, behold His tears, O God, and through His infinite merits, hearken to Him when He intercedes for us poor miserable sinners. Amen.
Adorable Face of Jesus, my only love, my light, and my life, grant that I may know Thee, love Thee and serve Thee alone, that I may live with Thee, of Thee, by Thee and for Thee. Amen.
Eternal Father, I offer Thee the adorable Face of Thy Beloved Son for the honor and glory of Thy Name, for the conversion of sinners and the salvation of the dying. O Divine Jesus, through Thy Face and Name, save us. Our Hope is in the virtue of Thy Holy Name! Amen.
---
Prayer of St. Therese of the Child Jesus to the Holy Face
O Jesus, who in Thy bitter Passion didst become "the most abject of men, a man of sorrows", I venerate Thy Sacred Face whereon there once did shine the beauty and sweetness of the Godhead; but now it has become for me as if it were the face of a leper! Nevertheless, under those disfigured features, I recognize Thy infinite Love and I am consumed with the desire to love Thee and make Thee loved by all men. The tears which well up abundantly in Thy sacred eyes appear to me as so many precious pearls that I love to gather up, in order to purchase the souls of poor sinners by means of their infinite value. O Jesus, whose adorable Face ravishes my heart, I implore Thee to fix deep within me Thy divine image and to set me on fire with Thy Love, that I may be found worthy to come to the contemplation of Thy glorious Face in Heaven. Amen.
Prayer of Mother Maria-Pierina
O Blessed Face of my kind Savior, by the tender love and piercing sorrow of Our Lady as she beheld you in your cruel Passion, grant us to share in this intense sorrow and love so as to fulfill the holy will of God to the utmost of our ability. Amen.
---
For more information on the Holy Face of Jesus devotion see "The Holy Face of Jesus" leaflet.
www.olrl.org/sacramental/
This item available from:
Our Lady of the Rosary Library
11721 Hidden Creek Road
Prospect, KY 40059