The Brown Scapular of Our Lady of Mt. Carmel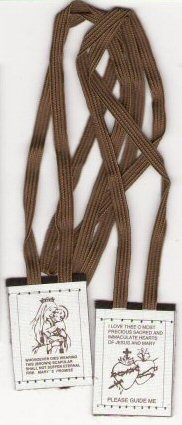 Our "Good" Brown Scapular has a vinyl picture attached to a piece of wool, is approx. 21" long, comes with a small leaflet and is individually packaged in a plastic sleeve. (Order)
Our "Best" Brown Scapular has a cloth picture sewn onto wool, and is approx. 24" long. (Order)
The "Good" Scapular is available with white or brown cords - please specify if you have a preference.

---
St. Claude de la Colombiere, the renowned Jesuit and spiritual director of St. Margaret Mary, says "Because all the forms of our love for the Blessed Virgin and all its various modes of expression cannot be equally pleasing to Her, and therefore do not assist us in the same degree to reach Heaven, I say, without a moment's hesitation, that the Brown Scapular is the most favored of all!" He adds, "No devotion has been confirmed by more numerous authentic miracles than the Brown Scapular."
---
For more information on the Brown Scapular please read our brochure The Rosary, The Brown Scapular and The Sabbatine Privilege. We also offer an excellent booklet entitled Our Lady's Garment - The Brown Scaplar which recalls several outstanding miracles attributed to the Brown Scapular and quotes the saints and popes recommending the scapular. It explains what a scapular is, how it is to be worn, the benefits received and more. It also gives a brief history of the scapular and St. Simon Stock.
www.olrl.org/sacramental/
This item available from:
Our Lady of the Rosary Library
11721 Hidden Creek Road
Prospect, KY 40059